For any small to medium sized business owner, a large portion of managing and operating your business is juggling resources, expenses, and how that all plays into the bigger picture. Resources include everything you could ever need to operate and maintain your business, from hardworking employees, to effective and durable equipment, to the money that your business generates, as it almost certainly is going directly back into the improvement and operation of your business.
One resource that isn't thought of very often but it is equally important is online computing and data storage resources. From managing a large network of interconnected and remote computer systems, to storing all of your company data in a nice and orderly fashion, the capacity you have to manage your computer resources is another important factor in your business is ability to operate. The resources your business has access to is a massively determining factor in its size, its reach, and oftentimes, its success. The biggest and most successful companies out there have an incredible amount of resources, both in terms of personnel, money, high-end equipment, and computing power and data storage. For small to medium-sized businesses, it can be hard to even compare your resources and success to larger and more successful businesses.
But that doesn't mean you can't improve your business resource capacity and capabilities, especially when it comes to online data storage and computing power. That's why companies like Virtual Business Solutions exist. We understand how important online data storage and computing power is to any business, especially a small to medium-sized business, which is why we make it our goal to provide as many IT and cloud computing services to our customers as possible, giving them the leg up they need to keep their business going. Our cloud computing service is just one of many services we offer, but a crucial one that can support your business where it needs it most. Keep reading to learn why your business needs cloud computing services, and how Virtual Business Solution can help.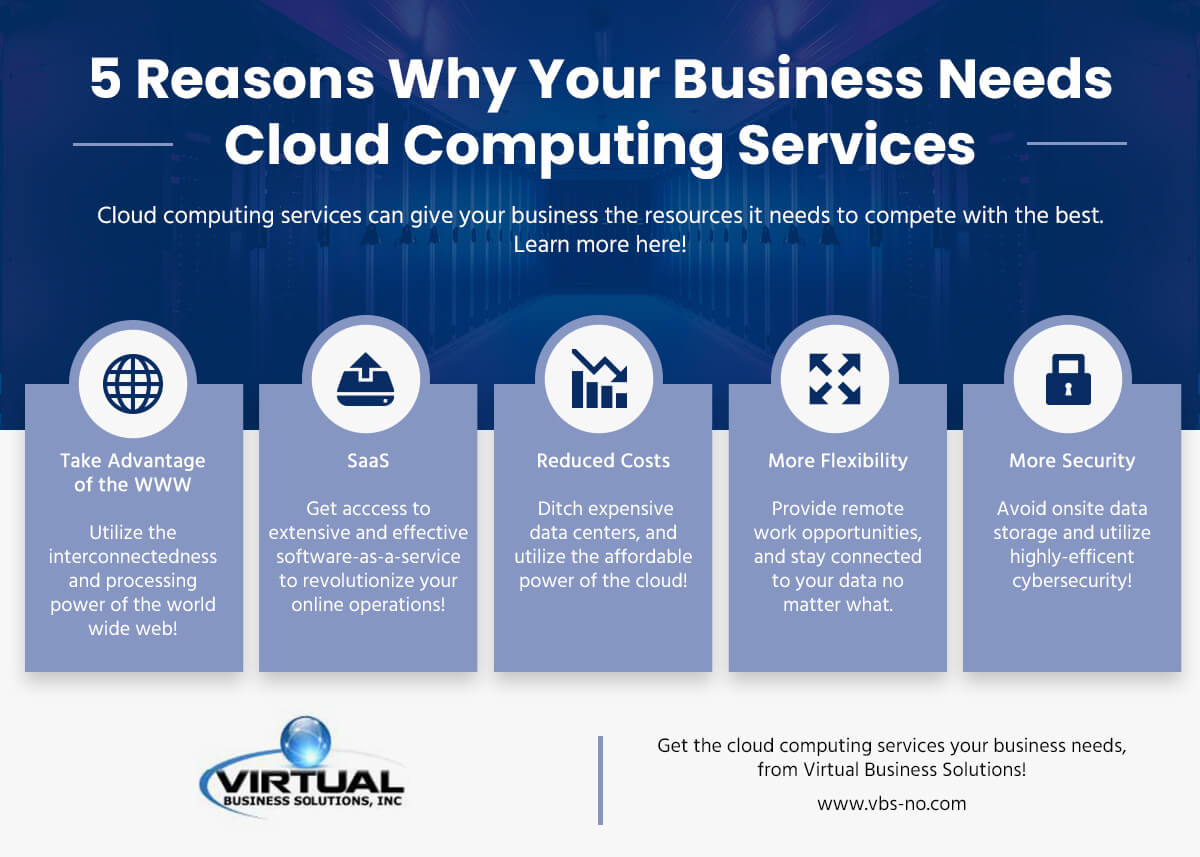 Take Advantage of The World Wide Web
When the internet was first created in the late 1990s, no one really could have predicted how massive and reaching it would be for the entire world. No one could have predicted how incredibly integral it has become to every step of Our Lives. But now that it exists with the importance it does, it's crucial that small to medium-sized businesses take advantage of the interconnectedness and power of the World Wide Web. Cloud computing services offer a variety of software, data storage, and computing power that can all be done over the internet, or "the cloud", which is a modern way of describing the vast computing resources and storage space that the internet can offer to anyone. For any small to medium business, you are doing yourself a disservice by not utilizing this incredibly innate power of the internet to optimize your business operation.
SaaS
You may have seen this acronym before, but you might not be sure what it means. SaaS stands for "software-as-a-service", which essentially entails any sort of operating software that can be used online in exchange for some sort of subscription or licensing fee. These types of softwares utilize the computing power of the internet to handle the resource capacity needed to effectively operate the software. That means for a small-medium sized business, instead of trying to upgrade your equipment and it's computing power (which can be expensive and not always effective), you get to take advantage of the computing power of the "cloud", giving you access to very powerful software that can improve and optimize your business operations, without requiring a massive drain on your resources or time. This is just one example of the power of cloud computing services for your business.
Reduced Costs
For any small to medium-sized business, utilizing the storage and operating capacity of the cloud or the internet is much more cost-effective than doing anything localized. Maintaining any sort of data center or expensive online system from a localized position requires a lot of resources (time, money, and highly trained employees). And as we mentioned earlier, effective business operation is all about resource management. So for any business operator looking to get the same level of data storage and interconnectedness without paying an arm and a leg for it, cloud computing services are the only way to get that level of reliability at a price that fits your budget. Especially when you work with Virtual Business Solutions, as we offer a variety of cloud computing packages that will cater to your specific needs and your budget.
More Flexibility
Just like the explosion of the internet in the late 1990s defined how businesses grew and adapted in that time, the quarantines due to the coronavirus might have done the same thing in 2020. For the businesses that survived this period, many of them had to employ social distancing precautions, and oftentimes, these precautions led to a majority of their workforce, remote working or working from home. Any small to medium-sized business is looking to stay ahead of the game, and currently, the game revolves around being able to offer your employees total flexibility, including where they work from. Cloud computing services offer the flexibility and access that you need to offer these types of benefits to your employees. By utilizing the cloud for a variety of your online business computations, your employees can take advantage of this interconnectedness too, working from wherever they want, and being happier and more effective employees for you in the long run.
Security
Cloud computing also offers improved security standards for your businesses information, data, and proprietary knowledge. You may think of "hackers" or other online criminals who might try to break into your "cloud", but in reality it would be much easier to break into the physical location of your business, and steal your information that way. Cloud computing services like the ones we offer at Virtual Business Solutions are oftentimes providing state-of-the-art cybersecurity, giving you the confidence you need to rely on cloud computing services for your business. These systems also provide full control over your data and information, allowing you to remove or relocate sensitive information, either taking it out of the cloud completely, or putting it in even a more secure location within the cloud. Either way, you can rest assured that your data will be safe, giving you the freedom to help your business improve and grow, all with the computing and storage support of the cloud.
Cloud Computing Services in Metairie - Virtual Business Solutions
As you can see, cloud computing services offer a level of power and resources that can be incredibly beneficial to small to medium sized businesses. The computing power and storage capacity of the cloud can give your business the breathing room it needs to not only survive in this difficult economy, but even thrive, on an online platform that caters to your customers and employees. That's what we strive to do at Virtual Business Solutions; offer our clients high quality online solutions that support their business and help them maintain their infrastructure. Contact us today and see how our cloud computing services can help your business in Metairie.